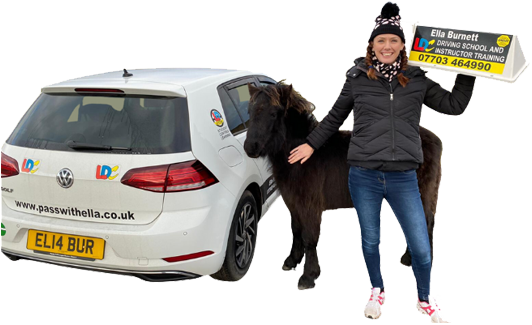 About me
Hi I'm Ella, I am a fully qualified Government Approved Driving Instructor (ADI) and I am passionate about improving the safety of our roads.
I became a driving instructor because I wanted a job with real satisfaction. Seeing someone pass their driving test and gaining their freedom is very rewarding.
Before becoming a driving instructor, I spent 10 years in a people management role for a major high street bank. My real passion at the bank was training and developing my people and seeing them succeed in their roles was a great feeling. However, I decided I needed to put my skills from this role in to good use elsewhere in order to have more flexibility to care for my children.
I live in Dawlish with my wonderful husband Leigh and our two beautiful daughters April and Summer. I spend a lot of my time with them outside of work. All three keep me on my toes!
I chose to work with LDC because everybody is different and the LD System allows for flexibility in lessons so that you learn to drive safely at a rate that suits you. I aim to make every lesson enjoyable and as productive as possible. The LD System just helps me to do this more effectively.
Your lessons with me will be conducted in a calm, friendly and relaxed manner as I firmly believe in making pupils feel at ease during lessons.
Hopefully this gives you a little inside information about me so please feel free to click here to "Contact me"