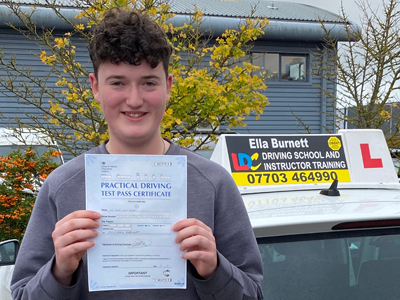 Jacob Healey
Passed first time
Ella is brilliant at what she does! I recommend her to anyone 100%. She helped me achieve a first time pass and helped me keep calm and progress towards my test!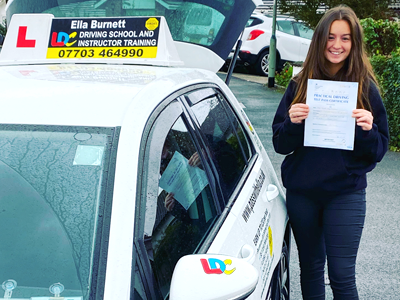 Izzy Simmons
It was important that I found somebody local and flexible with their times. I thought the teaching methods used were very effective and clear in order to help me. I thought learning to drive was challenging however I enjoyed learning to help me pass my test. I would recommend Ella to others because she takes learning very seriously and focuses on individual needs and preferences in order to help learn which is really helpful.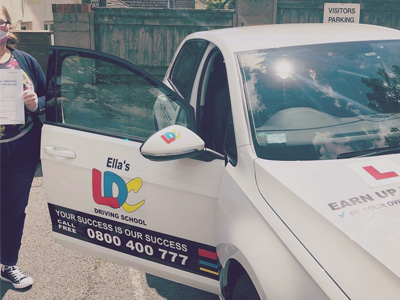 Amy Hunt
Passed 1st time (Key worker during COVID-19)
Ella is so calm and patient, makes you feel at ease. I am so grateful that she agreed to do my intensive course during these difficult times - and thanks to her, I passed this morning! First time! I'd highly recommend Ella for lessons, especially if you're new to driving as she takes it at your pace. Thank you so much Ella!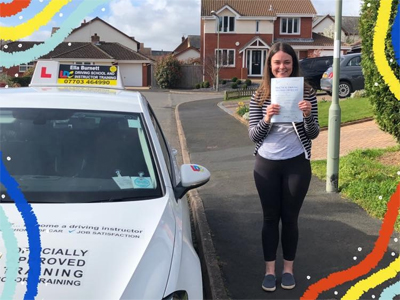 Stacey Farr
I found learning to drive really difficult. Ella was always so kind, calm, patient and encouraging and always made my lessons enjoyable. She was always happy to go through things as many times as it took until I felt confident doing them independently. I would recommend Ella to anybody wanting to learn to drive!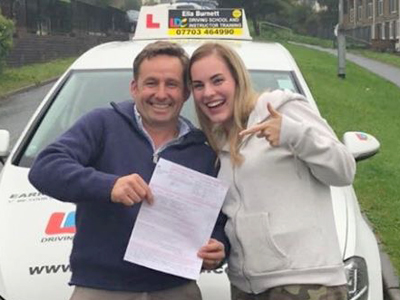 Jasper Bell
Qualified as an Instructor on the first attempt
I started training with LDC to become an approved driving instructor by training for the part 3 test. Ella was allocated to work with me due to being the closest LDC instructor to me. I had initially passed part 2 with a different instructor, but what a difference it made training with Ella, I ended up passing part 3 first time. It was a completely different learning experience for several reasons. Firstly, Ella is obviously passionate about what she does and nothing is too much trouble for her, and you can tell she really wants you to succeed. She will answer all calls, texts and emails promptly, even out of usual working hours, and would often juggle around students and timetables in order to find solutions for all her students. Her teaching style is very student centred, and although she does encourage you to progress, she never did make me feel that I was going beyond my capabilities, and it was a great learning experience, very comfortable and manageable. Ella is very knowledgeable in her field, and is happy to pass this on and share her experiences. All of this combined with her personality made the whole thing manageable. Initially, I was somewhat phased by what I had taken on as I thought Ella would teach/instruct me what I needed to know and do, but the more we worked together I could see how I took charge of my own learning, with Ella as a facilitator, and a very good problem solver if I was having a bit of a struggle, and she is quick to identify problems and work out a solution. Very happy with Ella and would highly recommend her to others for the reasons above. Thank you very, very much.
Paul Moran
Passed my Instructors qualifying test
I really feel Ella made a big difference in my thinking as to what I needed to do to deliver a more client centred lesson. We got on well and I found her approach very professional. We had lots of discussion which helped me see where I could improve but I think overall it was a kind of change in my thinking and understanding of what the examiners would be looking for. We used my car, which was fine with me. Ella was entirely open as to what our sessions should look like. I had struggled to get my head around the whole 'client centred' thing for a long time sometimes feeling that it was almost some mystical thing always just out of reach, whereas now I feel the mist has cleared somewhat. Ella said she didn't want to bombard me with too much with my 3rd attempt being so close and I appreciate that. She gave me a few pointers, introduced me to Gibbs reflective cycle (which I have used) and the system of intervention. I would be happy to recommend Ella as a trainer to anyone experiencing difficulties as I did, I'm sure she could help many students.
Carmel Langmead
Standards check first attempt success
As soon as I received my standards check letter I got straight in touch with Ella as had heard many good things, she did not disappoint. After a few sessions with Ella in preparation I felt more confident however the morning of my standards check I was in a huge panic and Ella was quick to phone me and offered her support. Although I passed my standards check I will still be in contact with Ella regularly to keep building my confidence and ability which will hopefully avoid so much stress for my next standards check. Thank you Ella!
Kevin Raven (trainee instructor who has since qualified)
Great rapport and ability to get the best out of people.
Ella allowed me to observe some of her driving lessons. She is a great instructor and has really helped me with my Instructor training. She has a great rapport with her students and an amazing ability to get the best out of them. Thank you Ella.
Kevin Sellwood
Calm, helpful and making lessons fun
Ella has been a fantastic help with one of my trainee instructors and I would like to publicly thank her for the tremendous support she has given. I have sat in some of her lessons and seen how calm and helpful she is to her learners, with lots of innovative ideas to make lessons fun as well as a positive learning environment. I can thoroughly recommend her to anyone looking for lessons. I'm glad she lives the opposite side of Exeter to me as she would be very serious competition if she lived nearer to me! Thank you for all your help Ella - if you are looking for an instructor around Dawlish area I wouldn't go anywhere else.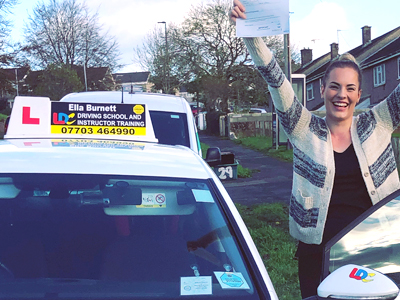 Shannon Brassington
Helped me with my confidence
Ella is amazing! She helped me so much with my confidence. Not just behind the wheel but in general. She is such a lovely woman and does anything to help you become successful within driving. I have just recently passed with Ella and I would recommend her to anyone. Thank you so much!
Rhiannon Macey
Can not recommend highly enough!
Ella is a proactive and supportive instructor who will make the most out of every minute you spend with her. Tailoring her lessons to her students individual strengths and making them engaging, safe and enjoyable. She will get you test ready but she will also have your best interest in mind to keep you safe on the roads long after you pass. Can not recommend highly enough!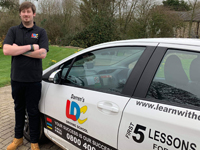 Darren Garton-Penaluna
ADI Part 3 Qualifying Test
I sought out Ella's help after failing my part 3 twice. Therefore I was extremely worried about my third and final attempt. After observing one of my lessons, she assessed my strengths and weaknesses and we put together a plan for remedial training. In a short space of time, she developed my ability to pitch instruction to the correct level, my coaching skills and my risk management to a level I was much more confident with. We went through my proposed routes and lesson themes for my part 3, helping me to see possible pitfalls. Over the course of the training I also picked up lots of small tips and advice which not only helped with the success of my part 3 but I can apply to my lessons. If you need help for either a standard check or part 3, Ella can easily help you as she did myself. Thank you again!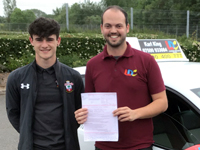 Karl King
Part 3 ADI Qualifying Test
I'm very thankful to Ella for the work she has done with me to become a fully qualified ADI (Approved Driving Instructor) 🌟 I started off with a different trainer while I was completing parts 1 and 2 of the qualifying tests. I did my initial part 3 training with a different trainer but then moved to Ella a few weeks before my part 3 test date. Ella didn't have much time to try and help me before that, but she certainly tried. Even before that when I was with my other trainer she was more than happy to arrange for me to come along and observe some of her sessions with learners. I remember saying to my partner after my first phone call with Ella after moving to her - "wow it really feels like I have a trainer now" 😊 Ella was so supportive and accommodating, making me feel that I really wasn't alone in the process.
She did what she could to help me in the limited time we had before my test with an already full diary, but unfortunately I failed that first attempt. To bounce back from this Ella planned some structured training time, and took my feedback on board about the way I like to learn (and not pushing me to do the instructor role play stuff that I hate!). Ella was proactive as well in arranging group sessions to help multiple trainees and again took feedback actively to try and improve these.
I have now taken and passed my second attempt at the qualifying test, and I will always remain thankful for Ella's help, reassurance, advice and guidance on what had previously felt quite a lonely road to becoming a driving instructor. Ella was also happy to offer support when needed and was happy for me to run issues past her with people I was teaching, and make suggestions to me about how to approach things. I have no doubt that if anybody is looking to train to become a driving instructor in this area, you will be well supported by Ella! 👍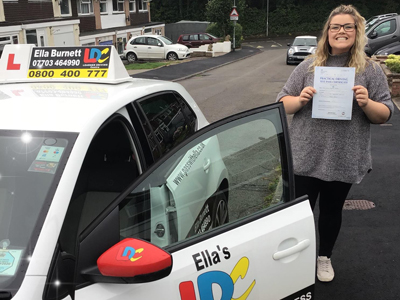 Jordan Brookes
Passed 1st time
Ella was everything I was looking for in an instructor: it took me a long time searching for the right person to teach me and I'm glad I spent the time looking. The aspect of the driving school that caught my attention was the LDC's workbook and video clips. If you are like me and like to learn why you need to do certain things then I would highly recommend this driving school. Being able to watch the videos and have the pictures in the workbook helps you to see how to do something. I've always been a more academic person than practical and this experience has been the best for me. Ella was more than supportive with me.
During my time learning I had my ups and downs and Ella consistently did everything she could to calm me down and give me confidence. After all, driving is a scary thing to do and you should feel comfortable right? Well if you feel a little nervous and you are afraid of an instructor getting annoyed with you, then I assure you this won't happen with Ella.
I think the key thing I want to tell anyone thinking of using Ella or the LDC driving school is that they don't just teach you to pass your test. If you do any research you will find countless comments saying that 'my instructor just taught me to pass my test' or even my friends said oh I learnt that after I passed by myself. Ella will teach you to be a SAFE driver and that is what everyone wants. Lastly, I want to thank Ella for everything she has done for me and I truly am going to be forever grateful for her help in gaining my freedom on the road.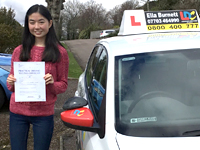 Ming Speyer
Passed 1st time
I really wanted a Driving Instructor who would work on specific things with me rather than just general driving skills. I knew some of the things I needed to work on and I needed to focus on those things to get better. I thought Ella's teaching was really good and I found the videos of me driving really helpful because I could see what had happened in a particular situation in retrospect and see what I should have done. Ella's help in manoeuvres was amazing! Just one session working on them made so much of an improvement. I liked that Ella taught me how to carry out the manoeuvre really slowly and constantly checking my mirrors to analyse whether I was where I wanted to be. I found this method particularly helpful because I can apply this system to any manoeuvre I do in a car, rather than relying on specific marking points. Telling Ella what I wanted to do or which lane I was going to move in to really worked for me because it allowed me to make my own decisions without being anxious of doing something dangerous. This allowed me to develop the confidence to make my own decisions at lanes and junctions. It was nice that Ella asked me if there was anything I wanted to do that lesson before we started because then we could work on things I felt less confident at. Learning to driver was harder than I expected. I will definitely recommend Ella to others because of all the things I have said above. Ella picked up on all the things that weren't so good about my driving and then made sure we worked on them and I felt like I improved every lesson. Overall, Ella is a brilliant teacher and I feel like I improved so much in the 6 weeks we had. Thank you for working so hard with me and for teaching me. I'm still not perfect but I feel like I know how to continue to improve with all the help Ella has given me.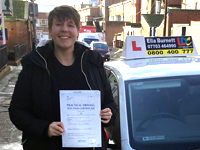 Charlotte Norman
Passed first time
Ella was amazing at getting me ready in only a few weeks to take my test - I passed first time which was completely down with how Ella helped me! She never rushed me, and we worked together to find the best way in which she could help me. She goes out of her way to make sure each lesson can be the best it can be, whether it be spending her own time creating routes on the Satnav or changing her usual teaching method to accommodate my learning style. She genuinely cares about getting her students to feel relaxed and comfortable driving, which is a huge part of becoming a safe and competent driver. I could not recommend her highly enough, any learner driver would be lucky to have Ella as their instructor.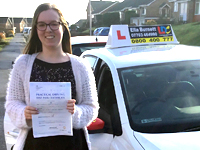 Charlotte Miller
Passed first time
Ella is such a good driving instructor, she always made everything clear and made sure I understood everything whilst also letting me be independent and not having to rely on her to make every decision. She always stayed calm and would help me if I made a mistake and would always do everything she could to solve the problem. I couldn't have asked for a better teacher!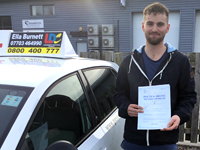 Sam Gover
Great instructor, friendly and very supportive.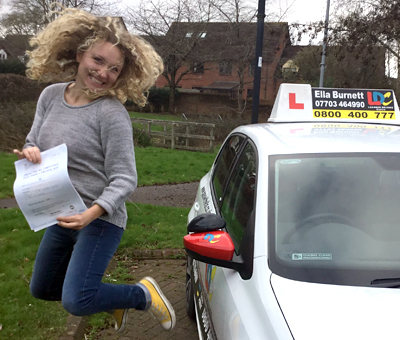 Grazyna Toczek
Passed first time
I couldn't of asked for a better driving instructor than Ella! I had a couple of different instructors in the past, but Ella with her professionalism, positivity and focus was beyond the comparison. I am a nervous person and I needed loads of support and patience, and Ella was the right person to provide all that. She could easily identify the areas of improvement and all weaknesses were practiced until they got mastered. She has a very calming attitude and was always letting me know that she believed in me, although sometimes I was loosing faith in myself. The LD system was very useful, from the video clips to the workbook. Thanks to the "mock test" session, I knew what I could expect from the test and surprisingly to myself, I stayed calm and in control during one of the most stressful events of people's life ( and passed 1st time!! ) I couldn't recommend Ella enough! If you're just starting learning to drive, or if you stopped because you lost hope - Ella is the one for you! She will get you through the test regardless to reservations you might have!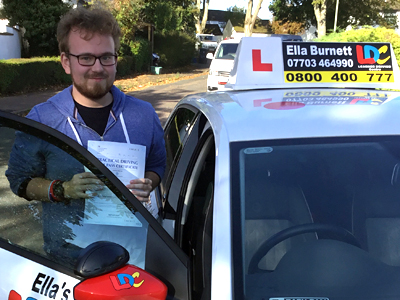 Sam Orchard
I started learning in March 2017 and passed in October 2017, and it wouldn't have been possible without Ella's help and guidance. Along with the workbook and videos from LDC which prepared me for each lesson, Ella's methods and approach to each lesson made it effective and relaxing to learn. I would definitely recommend Ella as a driving instructor, simply from personal experience and can quite safely say that without her I wouldn't have passed as the safe driver I am now!
Alanta Cook
Passed first time
I needed a car with a manual handbrake and I prefer female instructors who have patience. Also, I had to fit my lessons around college, Panto and dance so I wasn't available very often and I needed someone who could accommodate my times. I thought that Ella was very thoughtful and patient with me when I couldn't do something. For instance, I like to have an order in which to do things so when I struggled to park, Ella gave me different methods with step by step instructions which helped me to feel more in control and comfortable when manoeuvring the car. I found driving less stressful than I thought and I felt that I picked up the methods quicker than I had thought that I would which was reassuring and made me feel more confident. I would recommend Ella as she was supportive and helped me solve the issues that I struggled with slowly and she was happy to repeat things over and over to give me the chance to improve and feel comfortable.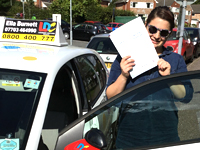 Aly Mohandas
Ella was a really amazing instructor. After struggling for many years to pass my driving test, she took me through the whole process and even coped with an emotional breakdown or two along the way. I definitely recommend Ella if you're looking for an instructor to get you the pass you want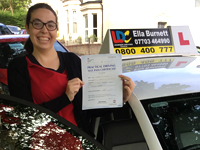 Josephine Furnell
Ella is absolutely amazing, I could not recommend her highly enough. When I first came to Ella I was a nervous driver and Ella helped rebuild my confidence in Driving by taking it step by step, she did not rush me and asked me each lesson how I felt. So if you need a driving instructor to help put you at ease and get you to your practical driving test I would recommend Ella. Thank you Ella for everything you did for me in order for me to get to where I am now that I have passed my driving test.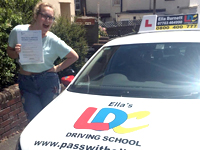 Emily Robson
Patient, professional and made learning to drive enjoyable
I'm Emily from Exeter and I would highly recommend Ella as a driving instructor. She was patient, professional, made learning to drive enjoyable, and taught me how to drive safely. These were the qualities which I felt were essential when learning to drive, and what makes Ella a fab instructor. I felt really safe when I was in the car and she encouraged me towards independence and passing my test safely. At first I was quite nervous but quickly trusted that I was in control of the car and had Ella as backup. The lessons were well structured and It was evident she put a lot of time into planning my lessons as an individual. When I found difficulties she suggested trying different techniques to help me, such as with reverse parallel parking, she encouraged me to draw out and explain the manoeuvre step by step, as if I was showing someone else how to do it. Having passed first time, I'm very happy with everything Ella has taught me and I'm glad I chose to learn with her!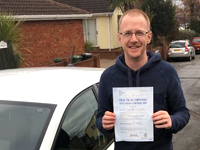 Chris Humphreys
Ella'a approach to learning settled my nerves
I passed last December (2016) with Ella, as an older learner driver the prospect of taking lessons again was quite daunting,however Ella's approach to learning settled my nerves very quickly and having a clear and structured lesson plan helped me immensely and gave me the confidence to finally get my licence, highly recommend Ella for anyone wanting to get on the road!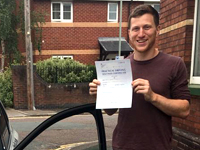 Tom Smith
Passed first time
10 years ago I was in a car accident after which it took me a long time to overcome my fears and get into a car. When I finally decided to learn to drive I was 26. I did a few lessons in London before I moved to Exeter and this helped build my confidence a little. However, it was not until I got into a car with Ella that I really started to gain the confidence I needed to envisage myself one day driving alone. She was fantastic at building up my abilities, without ever letting me feel scared or out of control. And with her help and insight I began to not only feel in control of a car but to enjoy driving. It was undoubtedly her patience, tips and calm manner that got me to the point where I passed my test. She was a pleasure to be in a car with each and every lesson and I cannot recommend highly enough!! -Tom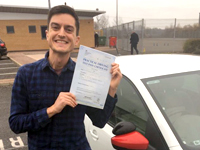 Chris Rice
Ella was very patient and friendly
When choosing my driving school I was looking for somewhere that to my mind had a good track record giving me the confidence that I had a good chance of passing. I was also ideally looking for a female instructor as I'd had a fairly poor experience with a male instructor, albeit a long time ago, so was looking for a completely different approach this time around. The teaching methods used were very good. The pictures were useful to visualise what I was meant to be doing. Feedback from each session was also very useful as it acted as a reminder as to what we had done last session and what to focus on next time around. I was surprised how quick things happen when you're driving a car so the level of concentration required was higher than I had expected. This passed after a while but it was a bit mentally tiring for a while. Ella was very patient and the breaks we had helped in this respect so thanks! The flexibility Ella allowed in evening and weekend sessions really helped me out. Between work and other commitments it wouldn't have been possible to learn to drive with daytime sessions only. Ella was also very friendly so I enjoyed our sessions a lot. If I know of anyone who is looking to learn then I would definitely send them Ella's way.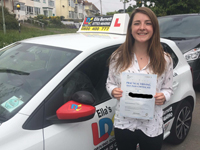 Lucy Morris
Ella was an absolutely fantastic driving instructor. She really helped me to feel at ease and was incredibly thorough when teaching me new things. She was very calm and patient and helped to talk me through situations when I was unsure. She would always take time to answer my questions and iron out any concerns I had. The lessons were really well structured and organised and Ella always worked around what I wanted to achieve which was brilliant. I would highly recommend Ella of LDC Driving School to anyone. Thank you for all of your help!